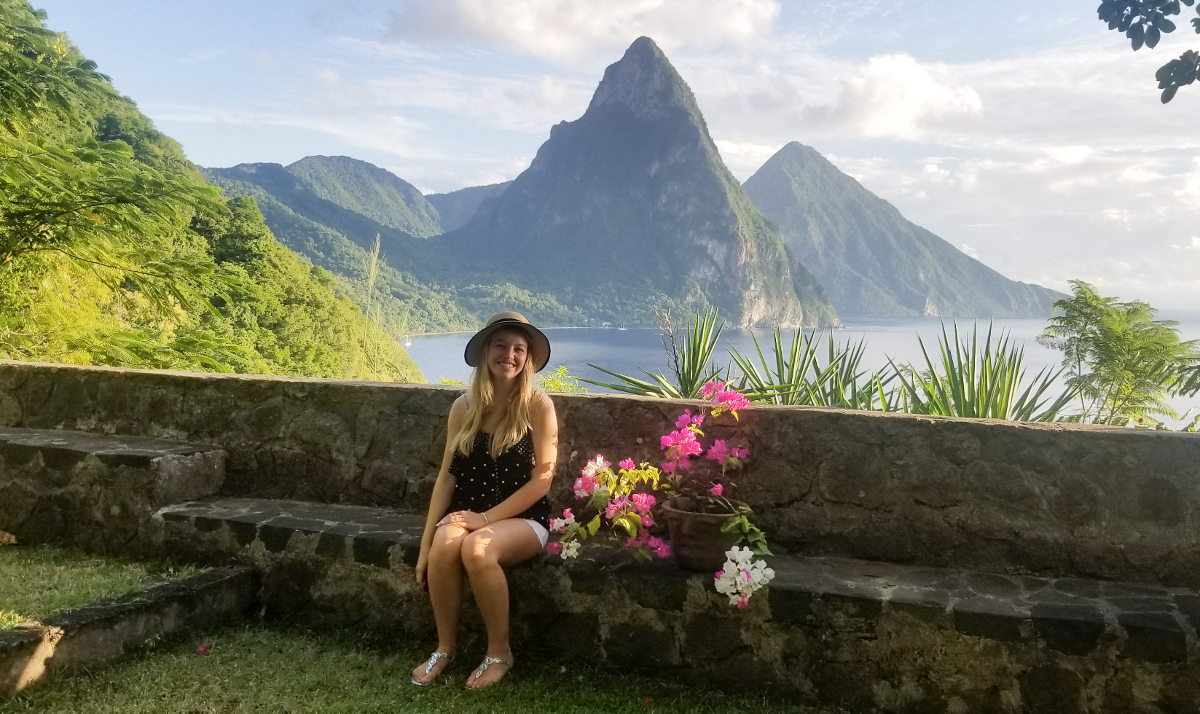 Special Feature: Honeymooning in Saint Lucia - The Enormous Picture Journal
Immediately following our marriage, Ruby and I travelled to the island of Saint Lucia in the Caribbean. While Ruby knew we were going on a honeymoon, she (along with everybody else) was never told of where we were going.
A little disclaimer - this post is very long and detailed, as it's a journal published in its nearly raw form. This post mostly exists for ourselves, our family, and those who are planning a trip to Saint Lucia. All notes were taken on my phone in StandardNotes when we had down time. I opted not to bring my bulky semi-valuable camera, because sometimes I find myself more focused on photography than what I'm shooting, so all photography in this post comes from a Samsung Galaxy S8. Let's begin at Day 1.
Day 1: Monday, November 18 - Traveling to Saint Lucia
Ruby and I woke up at her parents' house a little after 4 AM to make our first flight. Ruby's mom was sweet enough to take us to Reagan. We made it there with plenty of time to make our flight to Miami.
Our layover in Miami was short, so much so that by the time we got to our terminal, we were one of the last ones on. This is when Ruby learned that we were going to Saint Lucia. She didn't really have much of an idea of what it was, which was the best part. Originally, we were several rows away from each other, but by God's grace a seat next to Ruby was vacant. I filled her in on a few details as we travelled.
Upon arrival, we turned in our customs forms and went to the SIXT booth to get our rental car. We got a splendid little Suzuki Jimny in forest green. Some shady white guy was there flirting with the lady behind the desk. From what I could tell, he was looking to make a quick buck by opening a water taxi from the Hewanorra International Airport to the resorts in Castries. Judging by our brief interaction, I would not go into business with him.
We left the airport and headed up to Soufriere. The road was nicer than I imagined, and has all sorts of hairpin turns and elevation changes. Oh, to have my own corner carver here and an empty road…
Getting used to driving on the left hand side of the road was pretty easy. It just means you have to evaluate the situation a little more whenever you turn.
Ruby took some photos on the way. As we reached Soufriere, we stopped at a scenic overlook toward the town and the beach. We talked to another tourist that was also driving a Jimny. He was on a sailing trip, and had been on Saint Lucia a few days already. He kindly took our picture.
We made it through Soufriere successfully after getting a little lost because we continued past our turn and proceeded along the main road up the mountain instead of hanging left at the Hummingbird Resort.
We pulled close to La Batterie (our first AirBnB) when Terry, the gardener, spotted us and asked where we were headed. He helped us inside the compound and Stephanie, the house manager, showed us around. Although the sun had already gone down, the Pitons were still visible. During our little tour, La Batterie seemed to just go forever. We were shown three of the four bedrooms, but of course we only used the one whose doors opened up to a spectacular perspective of the Pitons. There was a big wow-factor to this place, which is what I was going for. I spoil her. She kept looking back at me like "you're too much", which is what I go for.
Stephanie had prepared us both chicken rotis with salad and fried plantains. The roti consisted of potato and chicken curry wrapped in a crispy tortilla - a staple Caribbean dish.
When we were enjoying our dinner, Clavie, the driver for the villa (who we didn't end up using at all due to our rental Jimny), showed up to show us how to use the safe.
After dinner, we hopped into our own private pool. It had steps on one side that descended maybe 8 feet underwater, and the other side had a ramp. There was this cool little divot on the ramp side where you could sit mostly still in the pool. A smaller kiddie pool was raised next to the main pool with a waterfall that poured into the main pool. It was really nice.
After our time in the pool, we showered, and set out to try some of the fresh fruit. Ruby tried to make a smoothie with the bananas, pineapple, papaya, grapefruit, grenadine, and a shot of rum. It was terrible, but it was fun.
We uncurled the mosquito net, shut the doors, and went to sleep.
Day 2: Tuesday, November 19 - Enjoying La Batterie and Some Light Exploration.
No alarm clock this morning. After we woke up, I opened the doors to our bedroom with Ruby still in bed. It was beautiful - like a painting. Our room overlooked Soufriere Bay and both the Pitons. There were no other villas visible on our side of the bay from our balcony, which meant total privacy.
We ate a delicious breakfast of bacon and eggs on toast, prepared in our kitchen. It was just us, the birds, and the geckos.
We spent some time in the pool, and made plans with the property's gardener, Terry, to do a rainforest tour the next day.
We had asked in advance for Stephanie to get lunch sandwich materials for us. She wasn't able to get deli meats, which was a bit of a buzzkill on lunch. Because of this, we decided to make our way into Soufriere to search for food.
Stephanie had recommended a place called The Golden Spoon. Upon venturing into town, we discovered we had no idea how to identity places to park. Looking somewhat confused, a local stopped us and walked us to a small lot not far from where we were.
Of course, he wanted a dollar for that. Sure, why not. Then some useless person came to welcome us and told us he would "protect our car". Great, thanks.
After a little bit of searching, we found The Golden Spoon inside a miniature mall.
The menu wasn't totally impressive. Menu items were fairly American, except from the addition of rotis. Ruby ordered a fried fish sandwich, and I ordered a chicken burger.
Our food eventually came, and we were both impressed at how good it was.
When we returned to the Jimny, we were delighted that the person "protecting our car" was nowhere in sight. So much for that, huh?
Instead of going straight home, we headed further north to explore. This took us through Canaries and up into Anse La Raye. Going all the way to Castries was debated, but we determined it would be better to save that for another day where we could dedicate more time to it, so we turned around.
When we were almost back to Soufriere, Ruby spotted a sign that said something about a parrot sanctuary. I turned the car around so that we could investigate.
We parked, crossed the street, and passed through the entrance.
Down the hill came a thin man with disorganized grey hair with occasional dredlocks. He is Asa, a local Rastafarian man in his late 60's. He's lived on Saint Lucia for most of his life, and manages a nature trail featuring an overlook where you are likely to see parrots if you visit at the right time of day.
This sounded awesome to Ruby and I, but we decided to come back another day when we were both a little more prepared for a hike.
Back to La Batterie we went. We were pretty exhausted and ended up crashing in bed for a nap, and didn't wake until 5 PM or so.
I woke up with the fact that Stephanie was preparing dinner for us on my mind. Worried that our snooze had messed with her plans, I made my way through the villa to the kitchen. Everything was dark. BK, the night watchman, informed me that Stephanie hadn't been at the villa since he arrived.
I became a little concerned that we were without a dinner in a country where I wasn't yet comfortable taking my wife around in unfamiliar places in the dark. I called Stephanie. She laughed. Our dinner was hiding in the oven (already cooked).
Ruby and I prepared a table on the balcony and dug into our second sampling of rotis on the island. This time they were beef based, and served alongside a side of scallop potatoes (YUM).
Unsure of what to do at night at the villa, we moved some [heavy] furniture around to put a couch in front of the oddly placed TV in the dining room to watch the first Pirates of the Caribbean movie. One of the first scenes was shot just up the coast in Marigot Bay.
Not wanting to bother the house staff, we put the furniture back before going to sleep.
Day 3: Wednesday, November 20 - Rainforest Hike with Terry
We awoke this morning by alarm at 7AM in order to get ready for our rainforest tour led by Terry, our gardener. We made a quick, delicious breakfast consisting of a bacon, egg, and cheese sandwich with pineapple.
After filling ourselves, we enjoyed watching the local animals battle over our leftovers.
Terry arrived at La Batterie not long after 8 to take us out. We hopped in the Jimny and headed through Soufriere and onto the rainforest, which greeted us with rain and forest.
Some portions of the drive up the mountain were pretty remote. Roads were unpaved, or sometimes two long paved strips you'd have to balance the car on with a deep channel in the middle. It undeniably made me a bit nervous.
We stopped high up in the mountains to look down on Soufriere and the Pitons.
We turned around and went back down the sketchy road towards a farm where we would begin our hike.
We arrived at the farm, and got out. Walking sticks were ready for us on the right of where we parked. Terry led us in, and two young men who were working told Terry that it would cost $10 USD to get a tour of the farm. Fair enough.
Before checking out the farm itself, we went on a little hike to an overlook. Along the way, Terry showed us various plants of interest — frankincense, myrrh, cinnamon, nutmeg, and more.
At some point, we arrived at a bench that overlooked the mountains to our east, with Mount Gimie to our north. Terry explained how 40 years ago a plane carrying six tourists hit the other side of the mountain, and nobody survived. He also told us about how people would go deep into the forest and plant marijuana.
We made our way back down to the farm. Terry had us pick things. They had a few bunnies and guinea pigs in cages to produce manure. The owner of the farm, a relatively young man, met us. I gave him the $20 and he took us over to pick our own carrots and peanuts while Terry used the restroom.
There were some blue doves in cages that we saw on the way out. We made our trip down the mountains, stopping briefly at Terry's house so he could grab his backpack.
We did stop at the Toraille waterfall on our way back to Soufriere. It was a definite tourist trap. Many busses were outside bringing hoards of foreigners to the falls, presumably from the resorts in Castries.
On our way in, we spoke to some of the vendors out front. Ruby and I bought fried bread (kinda like a donut) for $1 USD and coconut bread for $1 USD and split them. Both were very good!
The walk to the waterfall was short. The waterfall by itself was pretty tame as far as waterfalls go, but it did have a nice pool that it poured into for people to take a dip in. Neither Ruby or I brought anything to get wet in, but we did go down and feel the water.
A photographer with a reflective vest took pictures of anyone who wanted a keepsake from the falls. Right beside us, a man proposed to a woman in the midst of the hustle and bustle. There was brief cheering, and life continued as if it had never happened not 30 seconds later. It did seem a bit odd, like drawing a masterpiece on an etch a sketch just to immediately shake it up.
On our way out, we bought some banana BBQ sauce we had sampled on the way in [This was later confiscated at the airport. RIP], and two of those generic little turtles you see for sale no matter where you visit. My mom will enjoy one all the same.
When we made it back to Soufriere, the three of us stopped at a restaurant and had lunch. Ruby got a fish dish, I got a chicken roti with fries, and Terry got a beef roti. We paid for Terry.
We drove back to La Batterie and I gave Terry the $60 USD he requested for giving us the tour.
We hung out at the pool for a little bit, and then played some cornhole. We're both pretty garbage but I came in for the W with a cool 21-10 victory after taking a break to watch the sunset from outside the villa.
We went in and made dinner, which was leftovers from yesterday's beef rotis, scallop potatoes, and Ruby's leftovers from lunch.
Exhausted from moving furniture the night before, we opted to see what watching Pirates of the Caribbean 2 on Ruby's phone in bed was like. Huge upgrade. We were pooped afterwards, and went to sleep shortly after/during Ruby read Exodus 20-23.
Day 4: Thursday, November 21 - Choiseul, Font Deux Plantation, and the Balenbouche Estate
Our last day at La Batterie! We spent our morning enjoying our last few hours at the beautiful location.
We left shortly before 11, needing to spend time until 3 PM when we could check in at the Waterlilly Cottage at Balenbouche Estate. We hopped in the Jimny and headed south down the west coast towards Laborie.
I knew that the town of Choiseul had a real arts community, so we planned on exploring down there. Terry had given us a little hint of where to aim (before the speed bump, take a right). We found this path, which took us down to a little village on the water. Nothing in particular really stood out, so we continued around the loop towards where we came.
On our way, we saw a sign for an art gallery plastered against the outside wall of one of the hairpin turns. It took us a bit to actually find it. The gallery is ran by a couple that makes all of the art themselves. When we arrived, we were greeted by Hattie Bernard and their dog. She paints and does handcrafted souvenirs, and he does basket weaving. The baskets were in a covered portion outside, the handcrafted souvenirs were on the bottom floor of the building, and the painted works were upstairs in a cute little studio. The works were fairly priced, and we ended up picking up two woven hotplates made of palm leaves at $12 USD a piece.
We still had time to spare, and decided to head towards the Font Deux Plantation to get some chocolate.
On our way, we saw a sign for a Batik gallery that was open 10 AM-4 PM. We stopped, but nobody seemed to be there, so we moved on.
Further up the road going north, we saw a sign for Lucy's Batik and Tie Dye — a much lower budget production than the gallery we visited before. We stopped to check it out.
When we parked, a woman who was working next to the street approached us and followed us across the street to the house. This was Lucy. She greeted us and welcomed us in.
The inside was dark, and had a mismatch of objects laying around, not necessarily neatly displayed for customers. She told us that she was in a legal battle with the government for a couple years that had put her operations on hold. She was very kind, and answered Ruby's questions. She was self taught, having started her art journey by reading a book. She was very kind.
Eventually, we made it to the Font Deux Plantation. We asked about touring the plantation, but it was pretty expensive at $40 USD a person including a meal, or $25 USD a person including a snack. We opted to just get lunch at the onsite restaurant, the Bamboo Cafe.
Ruby got a chicken roti, and I got a chicken dish with rice, a meat pie, and bread fruit. Her roti was definitely more curry-based than the ones we had before. During our meal, a large rain storm moved through. This is a regular occurrence, and everyone continued business as usual.
On our way out, we stopped at the gift shop and picked up a $10 USD bar of chocolate (60%). It wasn't big, but it was apparently made on site.
It was nearing 3 PM, so we started heading towards our next AirBnB.
We arrived a little early, and headed into the main plantation home. We were greeted by many dogs, all of which were rescued strays on the island. They appeared as if they could all be siblings. They were good dogs.
Verena, the daughter of Uta, who runs the estate, met us and led us to our cottage to give us a tour. The Waterlilly Cottage is one of a few AirBnBs on site, and is a small bungalow shaped like an octagon with a bedroom in the middle.
Verena is soft spoken, and gives off a very earthy vibe.
Upon moving in, we immediately prepared to check out one of the property's two secluded beaches (all beaches on Saint Lucia are public, but some, like this one, are very hard to reach).
Verena helped direct us through a locked gate, past some cows (and cow pies), down a steep set of steps, and to the black sandy beach. It was just us.
We laid our things on a higher point, and made our way up and down the stretch of beach until we would reach each of the cliff faces that blocked us from going further. It's maybe 1/8th mile.
The water felt great, but the rocks on the floor made the experience a bit painful. When the waves rushed in, so did the rocks against your ankles.
The view was delightful. Almost all ocean, except what you could see of Mathurin Point in Vieux Fort, which was visible when you went further north on the beach.
We resorted to collecting beautiful shells and whatever trash would wash ashore. Whose hairbrush was this? Whose shirt was this? What action figure did this plastic leg come from? We will never know.
We were delayed a bit in our return by a bull that stood in the middle of our path. Once we got around him, we made the short trek back to our cottage. By the time we got there, my legs were extremely itchy from the bugs in the field Showering felt great.
Dinner was at 7:30, so we took a nap to make the time pass. Ruby intelligently requested I set an alarm, which woke us up at 7:15. We turned on some lights and got ready.
While Ruby was in the bathroom, she called to me "there's a huge spider in here". Holy cow, was she right. The absolute unit was 4+ inches in diameter, and that is a conservative guess. I grabbed a shoe, and, thank God, killed in on the first whack.
This experience prompted me to do a sweep over the place, and I found a slightly smaller spider, which unfortunately got away behind our bed.
On our way to dinner, we came across an enormous frog. This was good news.
We walked to the main plantation building, where Verena made us dinner for $25 USD a head. It was a three course meal, with a salad to start, a main entrée, and bread pudding, which was more like a heavy bread pie with homemade jam. A couple other parties ate at tables nearby. Another couple with a decade or two on us honeymooners sat at the table adjacent to ours. The man had a heavy accent of European descent, and had my attention when he mentioned seeing "a marsupial" in the tree next to their table.
I watched as a rodent of some variety scurried down the tree. It was probably a rat. The cat on the railing ignored what was going on behind him.
At this point, the realities of getting an open-air bungalow in the rainforest were settling in. This was reinforced later that night by the adult cockroach I found on my backpack as I was carrying it to the bathroom, and the other similarly sized one that guarded our bar of soap.
While at the plantation, I connected to the Wi-Fi, downloaded Netflix onto my phone, logged in as Ruby's uncle, and downloaded Birdbox to watch offline (there is no Wi-Fi in the cottages). After returning to our bungalow and killing a couple cockroaches, we climbed into bed behind the protection of our mosquito net, and watched the movie on my phone.
Afterwards, we got ready for bed. We prayed [for no insect surprises] and I read Exodus 24-25.
Day 5: Friday, November 22 - Grocery Shopping, Tet Paul Trail, Volcano Sulfur Baths, Diamond Botanical Garden
I woke up and recorded yesterday's account on my phone before we ventured out to the supermarket to get groceries. We've been burning through cash pretty quickly (as expected) and opted to save some cash by making all of our own meals for a couple of days.
We headed south, through Laborie and on to Vieux Fort. Verena had given us directions at dinner the night before. Upon arrival, we were actually pretty relieved that the supermarket was fairly similar to what we would have at home, albeit smaller. We grabbed breakfast, lunch, and dinner foods. We opted to get the same boxed milk imported from France and bacon imported from Barbados that Stephanie had bought for us when we stayed at La Batterie.
Upon checkout, our total rang up to $159.66 EC, or $59.13 USD. Unfortunately for us, we walked in with $57 in USD and maybe $1.75 in EC. We briefly discussed what we could put back (as we were some odd $1.50 USD short), but a kind man behind us gave is a $5 EC note to get us by. At first I refused, but he insisted that I take it, so I did. I gave him all of the change we got back and thanked him again.
It's the little things.
We made our way back to the Waterlilly Cottage and made brunch — egg and turkey sandwiches with a side of quartered grapefruit.
We set off to hike the Tet Paul trail. It was a short drive north, and on the same side road as the Fond Doux Plantation, but instead of going there, you hang a left before the gate and take a windy road up the mountain.
Tet Paul is at the end of the road. It was $10 US a person, and I paid with my VISA card because I was trying to conserve my cash. We went without a guide, which would have been extra.
The nature trail was beautifully maintained and provided us some of the best views we've had so far. The vantage points have you a couple thousand feet above sea level just a tad east of both of the Pitons (inland). We only saw a few other tourists. We were unfortunately making the climb in the heat of the day, so we did not see any parrots (I had read that sometimes you could see them here).
There was a rain storm on the southern tip of the island. I was surprised that despite being able to see Saint Vincent and the Grenadines from La Batterie, I was unable to see it from this higher vantage point [I'm pretty sure it was behind Gros Piton].
We left Tet Paul Trail feeling that our money was well spent, and headed off to the "drive through volcano" and sulfur springs.
Finding our way was not too hard, as it was just up the street and on our first right. Upon arrival, we paid our $30 USD entry for both of us to tour the volcano and take a dip in the mud baths.
We drove along the road across the collapsed volcano and were directed to immediately park. Lo and behold, we parked right behind another Jimny in the same color! It looked as though it were a bit newer, and was driven by a couple that appeared to be 30-40 years older than us. I won't pretend like I didn't have some envy. Suddenly our little Jimny had been downgraded from perfect to almost perfect in my mind.
It wasn't much of a drive through, but I cannot complain. We got out and were assigned a tour guide, Marianna, to show us the collapsed volcano and answer our questions.
There was no visible lava or anything like I had seen at the volcano in Nicaragua, but there were dark pools of water boiling and shooting water high into the air. We were told that tourists used to be able to actually walk on the surface of the collapsed volcano, where they could boil eggs very quickly. This all came to an end (in the 80's?) when a tour guide, Gabriel, jumped up and down to demonstrate to his group how firm the ground was. It wasn't, and Gabriel collapsed the ground beneath him and was submerged up to his waist, obtaining second degree burns, but was thankfully quickly pulled out. He has retired from giving tours and is now a fisherman in Castries, according to Marianna.
Thus, the closest boiling water pit to where we were was dubbed Gabriel's hole, the only manmade one there.
Our tour guide (who was clearly fighting a cold) often reminded us about the "healing properties" of the sulfur. I asked her if anyone had taken one last bath to permanently cure all of their conditions. She laughed, "Not yet".
We got back in our Jimny and parked back at the entrance, where I struck up conversation with the other Jimny driver, as I do. He told me he had ordered a Chevrolet Spark (for shame!) and was pleased with the upgrade he got when he arrived.
Ruby and I took turns putting on our bathing suits in the changing rooms because the latch didn't work. After doing so, a very helpful worker directed us to put our belongings closer so that he could take pictures of us using my phone. I was a tad paranoid about not being able to protect our things, but thankfully the sulfur pool area seemed to empty out as soon as we arrived.
We got in the first pool, which was honestly uncomfortably hot. The printed sign said 100° F, but it felt a good deal hotter than Ruby's parents' hot tub, which supposedly lives at 101° F. I never really got used to how hot it felt. When we pulled our arms above water, we could see that any body hair was much darker and more pronounced, because of the mineral deposits in the water.
We got out and were given a bucket of light grey mud. We took turns covering each other's body with it, and sat for a little while until it was close to dry.
We were given a second bucket with darker mud, and were able to dip our hands in so we could paint on each other. Ruby drew a bird on my back, and I made her into an adorable kitty (if you squint).
We dipped into another pool, which was thankfully a bit cooler, and washed all of the mud off. I haven't felt so smooth in my life. The guides made many claims about the healing nature of the sulfur springs on your skin, and how breathing it in was healthy. I'm always a skeptic when it comes to armchair prescriptions, but, at the very least, the mud was very exfoliating!
With still some daylight to burn, we headed north (downstream from the sulfur springs), through Soufriere and towards where Terry had taken us, to the Diamond Botanical gardens. We arrived at 4:25 or so with only 35 minutes until close. We were the only tourists inside. The gardens were surprisingly well kept and featured.
We took a quicker pace than we normally would so that we could make it to the falls, but still stopped to take some pictures on the way.
The waterfall was actually really beautiful! Ruby joked how yesterday's proposal would have been much better done here — completely alone, at a bigger, more beautiful waterfall, and the sign even says Diamond Falls!
We made it out shortly after 5PM after checking out their composting setup and the fountain. Even though we didn't get to spend too much time at the Botanical Gardens, we were very impressed with them. Highly recommended.
We headed south back to our AirBnB in Laborie. On our way, we decided to stop at Sugar Beach to get the skinny on visiting the beach. All beaches on Saint Lucia are public, but that doesn't necessarily mean all accesses are public.
Two workers stopped us at the entrance and asked where we were going. They told us that you can't just drive in and check out the beach for free, and if we went on the people up ahead would try to charge us $50/head. However, he also told us that he ran a water taxi service, and we could "go see what they say", which told me it's probably better than he was making it out to be, and he wants a slice of the cake…
We drove along the road to the beach, which actually had more going on than we expected. After driving a mile or so (and up a really big hill!) we reached a paid parking area and another gate. I drove to the gate and asked about the public access to the beach. His response was fairly convoluted - something about parking for $5-10 USD but also something about a $50 shuttle and meal vouchers. After getting him to clarify, I was pretty sure we could just drive up here, park for $10, and access the beach without the expensive stuff. All about getting a slice of that cake…
We returned home to the Waterlilly Cottage to make dinner. I was tempted to get gas on the way, as the gauge now showed 20%, but it was getting dark. Tomorrow's problem.
Before really settling in, we went to the main plantation building to mooch the Wi-Fi. I caught up on some notifications and we downloaded the first five episodes of Stranger Things.
Finally, we got back to our bungalow and made dinner consisting of diced potatoes, green beans, and sausages. The bagged ketchup we got was produced just down the street at Vieux Fort, and, like all the other ketchups we've tried outside the US, is much sweeter. It's ok, but not necessarily as good as some Heinz or Hunt's.
After eating, we showered and got ready for bed. But first…we had the scare of our lives. Not a spider, cockroach, or snake (thank God), but…a cat! The poor thing was under our bed. Ruby was in our bedroom and saw it dart out and towards the door, and could hardly exclaim "CAT!" before it turned the corner and collided with me (and broke traction on my foot, giving me a little cut). It darted to the kitchen counter, failed one attempt at escape, and on the second try made it on top and out the window. It was twice as terrified of us as we were of it. After the fact, we wish it stayed to fight off critters.
We snuggled up in our bed and played through the first 22 levels of the game called "here" that I had downloaded on my phone the other day (good ole Google Play Store game roulette). It's kinda like the old "impossible game". We got stuck on level 23 and resorted to the first episode of Stranger Things. I liked it, but Ruby was falling asleep, so we went to sleep as soon as the episode concluded.
Day 6: Saturday, November 23 - Anse Ivrogne and Asa's Nature Trail & Parrot Watching
We slept in pretty late, and I recorded the previous day's account.
We began the day making our typical breakfast of eggs and bacon on toast, and prepared for our day. We freed a leafy green grasshopper that was stuck in a window all night.
We planned on going to Sugar Beach, but after speaking with Verena in the morning, we were dissuaded and decided to go to Anse Ivrogne instead. We also discussed doing our laundry.
We packed a lunch and headed north. We accidentally missed our turn in Choiseul to follow the coastal road, and continued past the series of hairpin turns to turn around at the Jean-Baptiste Batik studio we had tried to stop at on Thursday (and again on Friday, but it was seemingly closed).
For the first time, the door and windows were open. We parked and made our way to the entrance. We could hear somebody inside, and after a few tries, we got this somebody's attention. This somebody was not the artist himself, but a man named Dennis. Dennis was there to sell the pieces of art.
We were actually very impressed with the Batik pieces. Each piece could take the artist as much as a month to prepare. For the first time on the island, we came across artwork that Ruby would consider technically proficient. Dennis tried to sell us a piece, but we simply did not have the cash on hand (or the drive to use it) to afford such pieces. They were more than fairly priced. We were not sure Dennis was really all there. It always felt a bit like he was speaking to a fourth person in the room that wasn't actually there.
We got back in our rental Jimny and turned on the road we intended to the first time, and went along the coast on a windy road until eventually we reached an overlook with a restaurant on the top called The View. There was a small rocky road from here that led to the beach. The first turn was pretty intimidating, but the surrounding billy goats showed their support.
After parking, we discovered this is also a starting point for the Gros Piton hike.
We made our way to the beach and saw a few locals, and also saw that the coast was fairly rocky. We headed south on foot a bit across a small stream to where the beach appeared to have more sand. This appeared to be where the fishermen hung out.
We talked to two friendly locals who directed us to swim a little further because it was nicer (less lion fish and sea urchins). We began to settle under a tree when one of those friendly locals came by to tell us to not sit under that tree because the falling (and poisonous) almonds from it could be a bit unpleasant. We moved to the shade of the safer adjacent tree and put on our sunscreen and enjoyed the view.
One fisherman came by with a 5 gallon bucket with colorful fish inside, and used as colorful language to describe his dissatisfaction with the day's haul. It was pretty hard to understand him, but we could tell he was unhappy with the Trump Administration, and kindly showed us his marijuana without our request.
The sky opened up and it began to pour. We waited around for a bit, and when it lightened up we went to the car to drop off some of our things, and headed back to the beach to take a walk north up the coast (directly next to Gros Piton). It was very rocky, and in a few instances I would use my hands. We made great conversation about our times in high school, discussing PE class and cell phones.
When we made it back to the car, we started discussing what to do about our dwindling cash problem. We were down to about $180 USD, including ~$75 saved to give to Verena for our dinner from the other night and laundry.
It's enough for us to survive on, but it would be really nice for us to be able to withdraw some cash. I also came to the realization that while I informed my credit card institution that I was travelling, I never actually informed my bank…
To make matters worse, my debit card hasn't really worked for months. I had stopped by my bank last week about this, and they said they fixed it, but I never actually got a chance to check. I started to feel a little silly.
We went to Soufriere, as there is an ATM there. No banks are open until 8 AM on Monday. Upon our arrival, a local made conversation with us before either of us were even out of the car. I left Ruby in the car to fend him off (and more importantly, keep me from fumbling for keys while potentially holding a wad of cash), and accessed the ATM, which was in a little room behind a door next to the main entrance.
I put in my card, punched in my PIN, and requested $300. The machine buzzed and made flipping sounds, and to my surprise, money came out. It worked! What I (stupidly) did not anticipate was that it was in EC, which meant I withdrew just over $100 US, which wouldn't last all that long. I did some very quick mental math, and withdrew another $500 EC, which also worked (thank God). Only at the point of writing this have I realized how close my mental math was ($800 EC ≈ $296 USD).
Knowing I had access to my bank account made me overjoyed. I knew it would be ok either way, but knowing that money wouldn't be an issue went a long way.
We hadn't really planned this far ahead, and on a whim decided to head back up the mountain to the north of Soufriere and visit Asa, the Rastafarian parrot guy.
Upon making it up the mountain, we intended to split one of our sandwiches we packed for lunch, but Asa actually saw us parking and called out to us. Not extremely hungry, we decided to just eat afterwards.
We went through the gate and told him we'd do the hike for $20 USD. I ended up giving him $60 EC which is just a bit more.
We hiked up a little bit past his house. It was designed by himself and influenced by southeastern Asian architecture, particularly from Thailand. We took a brief stop on a platform overlooking the valley that held Soufriere and the Pitons. It was a spectacular view — perhaps better than Tet Paul, and while you could see much further than we could at La Batterie, that view was admittedly more picturesque.
We continued up his mountain path, and he pointed out various plants of interest, including pine trees he had planted to remind him of his time in Canada, a cinnamon tree, a fiddle-head fern (named for the curly end which resembles the scroll of a fiddle), the massive palms and bamboo that dwarfed us, and another frankincense tree. He actually went down to chop off a chunk of it to give us.
On our way up and down, we mostly discussed Rastafarian thought — how cities and venture capitalism are "a poison on society". While we may not have shared all of our beliefs, we at least agreed on some of the main points. We were impressed that for someone living off the grid with such beliefs, he was well read, up to date, is fairly well travelled, and was actually open minded. He was very spiritual while having knowledge to back his ideas.
We made it back to his vantage point and kept an eye out for parrots while continuing making smalltalk. It was around 4:30 PM — an excellent time to see parrots, as the air was cooling down. Asa took out some delicious oranges for us to eat.
He told us about his daughter on the east coast of Saint Lucia, his son in Vieux Fort, his son in France (and thankfully not in a big city!), and his son in Nova Scotia.
We talked in detail about the hurricane of 2009, and how much that disrupted his nature trail and how building practices on the island were sent through the gauntlet those 48 hours as rain plagued the island.
We talked a lot about China and their negative impact on developing countries through "economic colonialism".
He told us about how Saint Lucians are not very adventurous, and how many of them will have never even seen the sulfur springs.
I asked him about the effect of tourism on Saint Lucia. I had asked Terry this same question earlier in the week, and he only had positive things to say. As expected, Asa had some more thought out ideas on it - namely how it was making the younger folks lazier. That said, he was defensive of tourists, and said they are blameless in the damage that tourism creates, but rather that the government and locals are too quick to be taken advantage of by foreigners promising to invest in Saint Lucia. The result is that the tourist money goes right back off the island, and Saint Lucians give away their culture to cater to tourists.
I felt like I could relate to Asa a lot in the sense that he seemed to be what I like to call myself, that is, the "most optimistic pessimist". He realistically saw the negatives of situations and did not brush them under the rug, but also was able to see the silver lining, had hope, and believed everything would be ok.
We did see two pairs of parrots. They had green backs and colorful, multicolored chests. Before taking flight, they squawked and chattered with their mates.
On our way out, he showed us his humble abode where he sips his tea, reads National Geographic, and listens to the BBC. As we left, he cut a lily flower for Ruby. He also gave us a bag of little bananas he harvested on his property. They were pretty great!
We hopped in our car and headed back south through Soufriere and to the Waterlilly Cottage, for our last night in Laborie (right on the border of Choiseul). It was a great day, even though it started a little uneventful. Visiting Asa and making great conversation with him had been something we looked forward to for a few days, and we were so happy we didn't miss out on it. We both agreed that it was our favorite experience so far on our honeymoon.
A calico kitty joined us in bed that night as we watched a little more Stranger Things.
Day 7: Sunday, November 24 - Gros Piton and New Jerusalem Hot Springs
Another splendid day in Saint Lucia!
We woke up to an alarm at 6:30 AST, and began throwing our belongings together so that we'd be ready to bounce out when we returned in the evening.
After a quick breakfast, we headed up north again. This time our eyes were set on hiking Gros Piton.
We arrived at the Village of the Free People, and paid our $250 EC entry. The government requires this of any foreign hiker, along with a guide. Our guide's name was Quincy. He didn't talk much. Sometimes he'd let us go ahead for a bit and we wouldn't see him for a while. That was all fine for us!
The hike was pretty difficult. The path was very rocky. You rarely stepped on dirt, just rocks or steps constructed of sticks supporting the earth.
The hike is done in four quarters, by distance. At the first stop, you have a nice view of Anse L'Ivrogne and Choiseul. At the second stop, you have a view back at Petit Piton, and you can even see the stretch of land by Anse Chastanet where La Batterie and the Treehouses are (our third and final AirBnB).
Between the second and third stops, the terrain gets harder. The path doesn't make wide zig zags like most trails I've done, but just kinda goes straight up the mountain while going around trees.
The third stop is called the point of no return. If you've made it this far, you may as well go all the way. Of course, we were ready to reach the summit! There was really no view here.
It was a tough climb, but after some odd 2 hours and 15 minutes, we made it to the top! This was by far the most comprehensive view we had so far. You could see Vieux Fort in its entirety, Martinique (the country north of Saint Lucia) in the distance to our north, Mount Gimie (whose summit always appears to be in the clouds), the bald side of the collapsed volcano, and Saint Vincent in the distance to our south. I was drenched in sweat, and I took off my shirt and rung it out and there was SO much sweat in it!
A few dogs were hanging out at the peak. Stray dogs are all over the island. All of them have been friendly so far.
After enjoying some miniature bananas from Asa and some peanut butter, we began our descent. It seemed like it took forever, even longer than the ascent. Since it's not a loop trail, we had seen it all before, too.
Finally, we arrived back at the Village of the Free People, where we picked up some mango and avocado homemade ice cream. How could we not?
We hopped in the Jimny (after taking pictures of a Toyota Altezza) and headed through Soufriere, heading east into the rainforest to the New Jerusalem hot springs. Ruby recorded some of the journey, just to get a feel for what the roads are like.
Upon reaching the hot springs, we parked behind an older 4WD Kia Sportage. We began our way in and some tubby kid approached us from the adjacent house and said he'd be our tour guide.
I could tell pretty quickly that I didn't like this, but wasn't totally sure whether having a guide or not was standard. He led us down the path and pointed out what was already obvious to us, like where to pay our $4 USD admission, or where the baths were. He pointed to bamboo. "Do you know what this is?" "It's…bamboo…" "Yes."
We paid our admission, got changed, and went into the pools. He kinda followed us around on and off, and asked us if we were enjoying ourselves and such, and made me nervous when he would sit next to our belongings. I ignored many of the things he said or asked, trying to give him the hint. Eventually, he asked for a tip for being our guide, and I had to break it to him that we really didn't need or want a guide. Eventually he went away. I felt a little bad for that, but we really didn't want to financially support someone to annoy tourists.
This all made us think back to our conversation with Asa about the rising tourism industry's effect on Saint Lucia. Some young people are lazily trying to profit off if it without providing any real service.
The "tour guide" kid (I never even got his name) told us he likes making stuff, presumably out of wood. Why not follow that passion? Why not demonstrate to tourists how creative and rich your country's culture is instead of being a leech? At any rate…
The pools were great! The upper pool was fed with hot water from the springs, the middle pool was fed with water from the upper pool and some supplementary hot water, and the lower pool was fed with the middle pool's water and some cold water. Ruby and I both agreed that all of them felt pretty good! The hottest pool was slightly cooler than your typical hot tub, which meant it was much cooler than the sulfur springs from the day before (which is good).
We left and headed south to the Balenbouche Estate to pick up everything we left in the room and our laundry. Verena gave us hugs as we departed from Balenbouche to go north to our final AirBnB, the Treehouse Hideaway I.
I put another $20 USD in the tank in Soufriere. While I was inside to pay, that same moron that offered to protect our car on day 2 made smalltalk with Ruby.
We arrived at the Treehouse, just across the street from La Batterie. Wow! This one is perfect. Definitively the best one yet. It's small, but the perfect size for two people. It's very open, but felt much cleaner than the Waterlilly cottage, and since we had already stayed up here, we were much less bothered by the possibility of giant spiders eating us alive.
The entryway leads into an open room with a ceiling fan, that serves as a hub for the house. The bedroom features a large 4 post bed with a mosquito net, great storage, a TV, and even a mini split HVAC unit! The doors that keep us in are handcarved by Mr. Uptight (a local woodworker on the island).
The bathroom has a neat mirror on it with lights in it. It's actually pretty great at night. It also turns out a big 1 ft. x 1 ft. shower head is pretty sweet.
The kitchen is well featured with an oven with a stove top, a toaster, a microwave, a Bluetooth speaker, and even a filtered water cooler! The window to the kitchen opens up to give a view of the water. As the sun was setting, Ruby said "there's nothing better than watching a sunset from my kitchen". I took this as a challenge, and took off my shirt, picked up a kitten that was roaming around our house, and stood on the balcony outside the kitchen in front of the sunset. Beat that.
Outside, we have a little private "plunge pool".
Both Terry and BK have greeted us from La Batterie, which was right across the street from our balcony. Terry brought us more grapefruit. What a guy!
While I wrote, Ruby prepared our delicious sausage and pasta dinner while listening to her admittedly great Christian music playlist. It was delicious, and the rat we saw climbing the tree didn't change that.
Afterwards, we snuggled up and watched the rest of Stranger Things season 1 on Netflix, safe in our bedroom with the AC set to 21°C.
Day 8: Monday, November 25 - Castries & Sandals Adventure
We slept in pretty late this morning enjoying the comfortable air conditioned room and privacy of the Hidden Treehouse Villa I. We ate leftovers from the night before for breakfast, showered, and prepared for a trip to Castries.
Without GPS, we headed north up the main road, passing through Canaries, Anse La Raye (where we always get hollered at, this time it was "Romeo and Juliet! Romeo and Juliet!"), and Soucis. It was a pretty pleasant drive. Everyone drives fast, and as far as I can tell there are no enforced speed limits. Sometimes I will see a sign that says 20 or 40 or sometimes "64 kmh / 40 mph", but everyone simply just goes however fast they can. I've not seen any cars pulled over, either. From what I can tell, the police all drive pickup trucks here.
We eventually reached Castries, and pulled off to take out the GPS and decide where we actually wanted to go within Castries. We were pretty close to The Minor Basilica of the Immaculate Conception (a cathedral in the city), so we headed there. For being around all the resorts, the city was not at all what we expected. It was very crowded with foot and street traffic. From what we could tell, everyone was a local. We saw our first streetlights in the country, and the majority of them didn't even work.
We eventually made it near the Cathedral and parked. We were not certain where we could or couldn't park other than obviously not parking in loading zones or blocking entryways. After getting out, Ruby said she wasn't sure we could park where we did, so I asked the first local that walked by whether or not we could. She was right. Double yellow lines by the curb = no parking.
We got back in the car and said forget the Basilica, we'll head to the next place. This happened to be the Howelton Estate. All I had heard about it is that artists sell their work there, the prices are fair, and the entry is free.
Upon our arrival, we went downstairs to the restrooms and then onto the covered outside portion on the back side that overlooked Castries. There was a small bar and three little artists studios, all for batik, wood carving, and painting.
A man down there asked if we were there for the chocolate making class. I asked how much it was. He said $60 a person. I said "…is that in EC?" "(laughing) no" "(also laughing) dangit". When we were walking away, a huge group came in, presumably from the Viking cruise ship in the bay. I'm not sure they would have had room for us even if we felt like spending $120 USD on the class.
We went upstairs, where there were all sorts of crafts for sale - soaps shaped like what they smell like, paintings, Christmas ornaments, and lots of Batik fabric and clothing.
While inside, a heavy rain and wind passed over, making plenty of noise on the metal roof. I wondered how the open air chocolate making class was going.
I encouraged Ruby to shop. It is our honeymoon, after all. She tried on one dress, first way too big, and then only a little too big, and then one of a different style that was a free size that was flowy. We took that one home, because it's so her.
I made some smalltalk with the people working there, and figured out where to head next — the Pink Plantation House nearby for dinner.
We had difficulty finding it, but when coming back through realized a gas truck was in front of the sign. We entered at 2:20, 40 minutes before close. We parked (on my second try, as the first Ruby would have exited the Jimny directly into a ditch), and went in. We could tell this place was very fancy.
We were seated at a small table by the railing that overlooked Castries and the Caribbean behind it. Before us were beautiful large handmade bowls, which were taken by the server almost immediately.
The menu was served on a clipboard, which had also been fancily painted. It was a really nice touch. Meanwhile, a plate with delicious fried bread and butter was brought out to us. It was amazing, which excited us for the rest of the meal.
The menu items were not cheap per se, but they were less than what you would see in America.
We ordered a the soup of the day as an appetizer (pumpkin soup). For our entrees, Ruby ordered the Catch of the Day (red snapper with the ginger sauce, as per the waitresses' recommendation), and I ordered pork.
The soup arrived in the most ridiculous bowl that looked like an upside-down wide-brimmed hat. But heavens. It was perfect, and excited us further for our entrées.
When they arrived, they were also served with a separate platter with four side bowls: small beans, steamed mixed vegetables, fried plantains with fried bread fruit balls, and a cabbage and pumpkin au gratin, which was incredible.
And speaking of incredible, our entrées. Ruby's red snapper was yummy, but my pork was without doubt the best pork I've ever had. I've never had pork that tasted so much like steak.
Around when we were finishing our meal, a lady at a table nearby eating by herself (a local) was seemingly complaining about everything — sending drinks back and claiming there was hair in her food. She eventually left (or was asked to leave). I felt terrible for the staff.
Although stuffed, there was rumor of dessert. If everything else was so good, the desserts must be just as good. We ordered a crème brûlée. We were correct. It was metal.
We wanted to explore the garden outside a bit, but the falling rain declined. We could formerly see all the way across Choc Bay, but with the rain we could hardly see the edge of the property. On our way out, we went through the gift shop. It was then that we discovered that the owner of the restaurant was Michelle Elliot, the creator of all of the fine artwork inside. We recognized her work from our AirBnB, where several of her pieces reside.
We hopped back in traffic and headed north with no real destination. Eventually, we reached the inlet where Fort Rodney is, as well as a Sandals resort. I used this opportunity for some photo ops with the Jimny.
At the end of this road where the foot path to Fort Rodney begins, there's the beautiful Pigeon Island beach (my theory is that it used to be an island, until the Sandals resort was built which connects it to the mainland). We had brought our bathing suits (just in case!) so we made the most of the opportunity. It wasn't the best view, but the beach was the nicest we had come across. The water was excellent, and we stayed past sunset.
We started having bad ideas related to the neighboring Sandals resort. All beaches on Saint Lucia are public…right? We managed the walk right through the gate, and the guard woman didn't bat an eye.
I observed other couples there, and there was no special indication like a wrist band or anything implying they belonged. We blended right in, as we're a young white couple, the most stereotypical Sandals vacationers.
First, we just walked the beach. Then, we sat on the big plastic blue thrones. This naturally led us to sitting in the big comfy hanging semi-circle seats.
Could we hop in a pool? Absolutely! So we did. They were pretty nice.
We dried off by a fire, where another couple joined us. Not in a rush to get into a discussion about where we were staying, we got up not long after.
Nearby, there was an outdoor party with people eating by the beach and some other festivities. After seeing a guy walk by in flip flops and no shirt, I figured they wouldn't care at all that I was in a shirt, swimming trunks, and no shoes. Ruby was wrapped up in a towel over her swimsuit.
We walked through. Ladies tried to sell us wooden souvenirs. Another worker enthusiastically handed us cocktails. A photographer was taking photos of couples and beckoned us to pose under an arch. Of course! As he finished with the previous couple, he got their room number and when they were leaving. Room 7030 and 3:30 on Saturday. Easy enough.
We got our pictures. Upon asking for our room number, I answered 7060. Big mistake. He knew that didn't exist. We stammered around, playing the "we don't remember, we just know how to get there" card. Another room number was made up, and we moved on.
We didn't want pictures, we didn't want cocktails, and we had our own personal pool back at our AirBnB. We just had to know how well we could play the part.
I picked up a roll and Ruby and I ate it on the beach. Hungry for another roll, I went back into the serving area. I came back to Ruby with another roll. This one just happened to look an awful lot like a steak with horseradish on top and ketchup on the side. It tasted like neither a roll or a steak. It was edible, even "ok", but a D as far as a steak goes, and leagues below our lunch at the Pink Plantation.
We headed back to the gate where we entered to make our way out, knowing the guard would be an obstacle. We slipped out when she had wandered off a bit, but she still saw us. She called after us, and I kept walking a little bit, but Ruby turned around because she's nice. The guard woman recorded our last name (we said "Dinnie") and our room number (7030 this time because we knew it was real) and she let us return to our Jimny.
Back to Soufriere! First, however, we stopped at a supermarket before we even got back to Castries to pick up some things to make meals our last two days here.
The trip to our AirBnB was shorter than we expected — probably because Google Maps doesn't assume that everyone drives like they're on a rally stage here [As an aside - it turns out OpenStreetMap has Saint Lucia in much more detail than Google Maps.]
Upon our return, we made our signature brownies and drifted off to sleep. We were exhausted.
Day 9: Tuesday, November 26 - Snorkeling and Board Games
Another wonderfully lazy morning. It's been raining on and off. The clothes on the line are never going to be dry. We've been listening to music on Spotify (my "Cute." playlist and some Switchfoot albums) while I record yesterday's events.
We had no big plans for the day. We knew Anse Chastanet was just around the corner, so we made our way there to snorkel with our AirBnB's provided snorkeling equipment.
The beach was pretty small and mostly dominated by the on-site resort. A man working for Simon Says Tours greeted us and directed us to where to snorkel. He predictably started most sentences with "Simon says". That must get tiring.
The snorkeling was great! We were impressed at how many colorful variety of fish we were able to see. As far as snorkeling right off of the beach (as opposed to taking a boat out to some reefs) we considered the experience pretty good.
We headed back to our villa to hop in our little plunge pool before going back inside. We ended up playing a gnarly game of Scrabble. I hadn't played in…maybe ever? But it was surprisingly competitive. I ended up pulling a 292-287 victory with the word "tut" for 6 points.
After dinner, I taught Ruby how to play Yahtzee. She enjoyed it, which I was happy about, because I quite like Yahtzee. We did a single-player practice round where I walked her through the logic of the gameplay, and she scored a remarkable score just doing that.
We played 3 rounds afterwards, and in our last round, she pulled a double Yahtzee to totally destroy me.
We were dead tired, and threw Pirates of the Caribbean 3 on for the second or third time. We made it a little further before I was falling asleep, so Ruby turned it off and she read Exodus to us.
Day 10: Wednesday, November 27 - La Maison Creole and Flying Home
Another lazy morning for us, and our last day in Saint Lucia! We considered doing the Des Cartier ("two quarters") trail but decided not to because we didn't want to be very sweaty before being on planes for several hours.
After making breakfast and while packing our belongings, Chairmane (the Hidden Treehouse villa manager) and her assistant swung by a little before checkout. They presented us with a fired clay face much like the ones liberally placed within the villa. How kind!
Chairmane's assistant had came by earlier with some souvenirs to sell but I had turned her away at the time because Ruby wasn't dressed. I felt bad about that, but on their return, I was able to ask her about them, and she brought them back. I was hoping an opportunity like this would arise, so I had given our remaining EC dollars to Ruby. She managed to spend all $30 EC (~$11 USD) of it on a bead bracelet and Saint Lucia keychain that we'll turn into a Christmas ornament.
We brought our bags to the car and headed south towards Vieux Fort, but I had one last destination in mind. This was La Maison Creole, a small Saint Lucian cultural museum just on the other side of Choiseul.
When passing through Choiseul, we stopped at one of the art shops that we had passed a few times and wondered about.
After briefly checking out the woven items, we continued down south to La Maison Creole.
When we pulled up, we were greeted by a woman who ran the museum. I feel like her name was Theresa, but I can't remember for certain. At any rate, that's what I'll call her for now.
It soon became clear that this museum also served as her home, and that it was just us and her. The museum doesn't get frequent visitors. Later we found out that Theresa's daughter had added the museum to Google Maps, where I found the museum the night before.
After waiting a couple minutes for Theresa to tidy up, we began our tour. She showed us various items of Saint Lucian past — kerosene lamps, woodworking tools, cameras, homebuilding techniques, artwork, sewing machines, and anything else that she had come across and stocked in her museum.
Upon being asked about the vinyl records she kept (for she had many in large stacks), she encouraged us to take one home with us. I chose a Jamaican EP [which may be found on Discogs].
As we headed towards the garden in the back, she stopped to show us how she had just been cooking sweet potatoes in an oven (any Saint Lucian will pronounce oven oh-ven). It wasn't an ordinary oven either, but a stone construction that she might have put together herself, and a live fire. She shared one with us. It was okay.
In the garden, she showed us soursop fruit and a fruit called five fingers (carambola). We had seen soursop flavored ice cream after finishing our hike at Gros Piton.
We looped around the other side of the museum, passing her cat Zuki, and entered in through the front. There were inexplicably many items from Africa.
Earlier, Ruby had asked Theresa about her woven baskets that she makes. Theresa excitedly told Ruby that after the tour, she would show her how she makes baskets. What we did not expect was just how sacrificial she would be with her time with us.
We sat down at the entrance at a small table with strips of leaves from a Panama tree. For the next 80 or so minutes, Theresa demonstrated to Ruby each step of the process, starting with the bottom, then the sides, then the lid, tidying up any edges, creating and attaching two handles, and finally a latch to keep it shut.
It was splendid, and the perfect way to end our tourism on the island. People like Theresa make Saint Lucia beautiful.
We expressed how much we appreciated her time with us, and headed on to the airport.
Everything went pretty smoothly. Despite being a couple rows away in one of the flights, we were able to virtually spend time with each other playing Mario Party DS.
This is the end of my journal. If you have any questions about our experiences, do find a way to contact me.